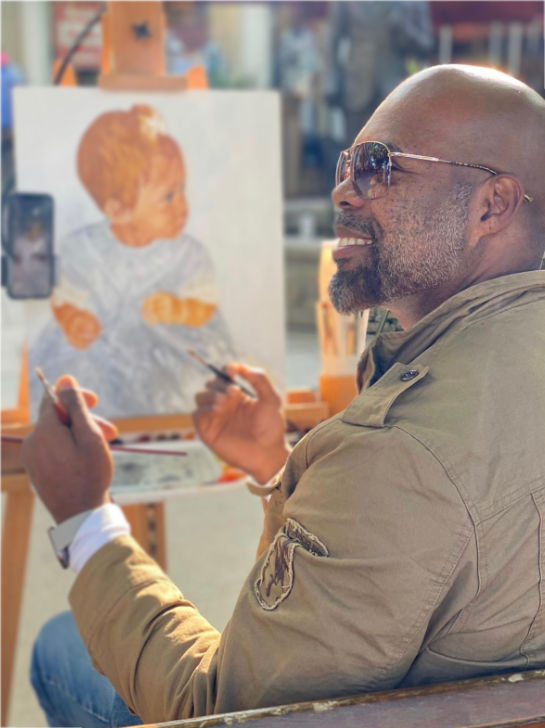 About Israel Anthony
I began drawing and painting at the very young age of seven. While having studied art in both Toronto and Hamilton alongside great artists and instructors, I have also had the opportunity to experiment with many different mediums, techniques and subjects. After having spent several years studying and recreating works by great portrait masters such as John Singer Sargent, Davinci, Rembrandt, I quickly learned that portrait painting was my niche. Today, my "mentors" are Cesar Santos and Andrew Tischler.

Painting portraits is my passion.  A Portrait should express the essence of the subject and I love the challenge in capturing it. It is always thrilling to experience the moment a painting takes on a life of its own: it is incredibly satisfying to know that I can use my talent to bring joy into the lives of others. I strive to meld the physical and spiritual characteristics of each person I paint into the most telling portrait possible; conveying the essence of my subject is paramount. I use the methods and techniques of the old European masters, and I am not satisfied until the portrait "breathes". Every portrait I created provides me the opportunity to produce a work of art that exhibits both beauty and timelessness; it is exciting to consider the possibility that one day my artwork may become a cherished heirloom, providing deep meaning for many generations to come.

A great portrait painting or drawing goes far beyond merely capturing a faithful likeness: the physical process of applying paint / charcoal / pastels creates a unique dynamic energy, impossible to replicate through any mechanical process. An artist, unlike a photographer, has infinite opportunities to edit what he has observed - whether working from life or from a photo - playing things up or down in order to create something that goes far beyond the surface. I use my reference photos to achieve a final composition that best conveys my sense of the subject; each element in my commission must be in perfect harmony with the overall composition for me to consider it successful.

I constantly strive to achieve my goal: to create portraits that will not only meet but will surpass all expectations.
‍
All my portraits are either oil on canvas or linen, or graphite / charcoal / soft pastels on Stonehenge / Strathmore paper, and are crafted using the highest quality materials.

Israel's capacity to capture the hues, curves and expressions of his subjects captivated me. I asked Israel to surprise my son's father with a portrait of our son on an autumn day at the farm. The reveal of my son's portrait brought his father to tears.

During the stages of painting, Israel documented the process up to a certain point which added a depth of appreciation to his talent and what is now a blessed piece of joy in our home. I would be happy and proud to showcase the portrait, and also speak to anyone considering working with Israel to offer additional insight into his outstanding professionalism, fine art skills, and natural ability to highlight the essence of his subjects.

-Marie Rolfe, Toronto, ON